Last Friday I celebrated the 10 year anniversary of my kidney transplant with my parents and the amazing woman who donated it to me. The actual anniversary is today but she works and enjoys her two grandchildren so Friday evening was the most convenient time.
We went to a nice Italian restaurant. My blood sugar was high when I checked so I gave myself some extra insulin to cover that and then some more in anticipation of eating plenty of bread and pasta.
I started off with a glass of red wine. Then the waiter brought us each a serving of bruschetta. It's a small piece of bread topped with bits of olives, onion, peppers with Italian seasoning, including plenty of garlic. I don't recommend ordering it on a date. I ordered fettuccine Bolognese. A basket of Italian bread was placed on the table next to me. It all tasted perfect. I could eat Italian food all day.
There was plenty of food and I only ate half of mine. The waiter boxed up the rest of it for me to take home. Then he put a piece of strawberry cheesecake in the middle of the table and said, "This is on the house because of how inspiring your story is."
That certainly was nice of him.  I held off as long as I could, let the others take small bites from it while I tried to ignore it.  But, it was my celebration, damn it!  I deserved to have at least a few bites of it.  Finally, I extended my fork to the small plate and had a bite.  It was delicious, of course.  I ended up having about four bites of it.  It isn't every day I get to celebrate 10 years with a transplanted kidney.  That's twice as long as the first one lasted.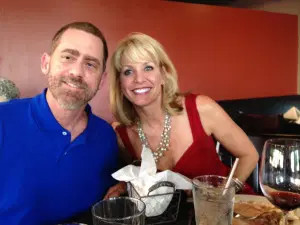 Connie and me at Bravo Italian restaurant.
It wasn't long before I was back home and took a few units of fast-acting insulin to make up for my celebratory feast. When I checked my glucose before going to bed, it was a bit high, but better than it was before going out to eat.
You may be back, diabetes, but if you think you're going to keep me from celebrating the momentous occasions in my life, you've got another thing coming.
Please be a follower and let the diabetics in your life know about this blog.