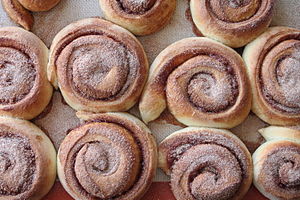 Cinnamon rolls from above. (Photo credit: Wikipedia)
One thing I always liked about Highlands Oncology is the small coffee bar near the entrance. Like most places selling coffee, they also offer pastries, cookies, and the like. Lucky for me, my pancreas was working fine two years ago when I was having chemotherapy. If they nausea wasn't too severe, I could order something sweet.
I'm happy to report that two years out, today's appointment showed good lab numbers, though I'm slightly anemic. On my way out I stopped at the receptionist desk to make my next appointment. The tempting aroma of fresh cinnamon rolls floated past my nose and went straight to my belly.
Cinnamon rolls are on my short list of foods I crave as soon as I smell.
"Hey, handsome. You're looking good and healthy these days. You deserve a little sweetness like me. Mmmmmm, don't I smell decadent?"
After the kidney/pancreas transplant in 1998, I went to a mall to shop for new, slightly larger clothes. The prednisone added bulk and my old clothes didn't fit. After I bought new clothes, I stopped at a place selling big, gooey cinnamon rolls with nuts sprinkled on top. I was in heaven—sticky, messy, lip-smacking heaven.
A few years after the transplant I started being more mindful of my weight. I wasn't overweight, but knew I needed to curb my cinnamon roll cravings.
Now I wish I'd had them more often. I was a good boy today and resisted the urge. That sweet perfume of cinamon baked into a pastry wasn't enough to seduce me…this time. Maybe I'll wear a clothes pin on my nose at my next oncology appointment.
Related articles