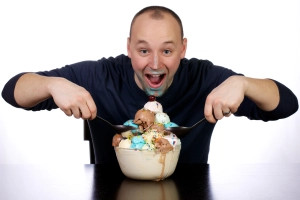 I was a Type I from the age of 12 until I had a pancreas transplant when I was 33. It came with a new kidney. Diabetes took a toll on me. Being diagnosed at that age, I wasn't always a model patient. It caused me to have kidney failure, lose part of my vision and parts of my feet are numb.
I loved being a "former diabetic" after the transplant. Or is the proper term "ex-diabetic"? It doesn't matter. I felt the way a parolee from prison must feel. No more shots. No more blood tests. No more diet. No more strict sschedules. Well, I had to start taking anti-rejection meds—lots of 'em—twice a day. Compared to the life I lived before, that was nothing.
After 14 years the pancreas stopped working, which means I'm back to being a Type 1 diabetic. This blog is about what it's like to go back to that world.